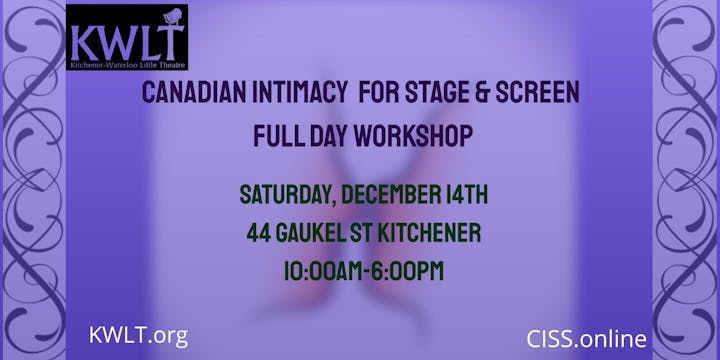 INTRODUCTION TO INTIMACY IN PERFORMANCE
Learn specific techniques for rehearsing and performing scenes of intimacy in a dramatic context. This work applies to a wide range of scenes including kissing, sexuality, flirting, familial bonds (for example, embraces between parent and child), connection between dear friends, scenes of sexual violence, and more. This workshop shares foundation concepts, illustrated with specific techniques and vocabulary, within the frame work of various acting exercises. Focus is on subtle and specific details in choreography, keeping scene partners connected physically and emotionally. It's an exploration of accessing vulnerability within a dramatic context for the purpose of telling the story of the scene. Directors and stage mangers will learn specific vocabulary to communicate and record the details of this scene work.
Topics include:
- what is "intimacy" and can be viewed as "scenes of intimacy"
- the actor's emotional preparation - the actor's physical preparation
- text-based preparation for scenes of intimacy, specifically tablework and script analysis
- consent and boundaries: how defining these is helpful to the choreographic process, and how asking for consent makes for a smoother rehearsal rather than slowing it down (which is what most people fear will happen).
- Joyful and Respectful Workspaces, and their role in supporting Intimacy and other performance work.
Discussions include:
- when is an intimacy choreographer recommended?
- What is the work of the intimacy choreographer?
- recommended best practices and codes of conduct for scenes of intimacy
- process discussion for approaching scenes of nudity. These practices of accessing vulnerability in a dramatic context result in powerful chemistry between characters without compromising personal boundaries.
Touching (handshakes, handholding, hugging) through guided contact improv is part of the course. Kissing is not required. While the goal is to explore emotional and physical intimacy, the core concept of this work is Safety, for the facilitation of safe exploration. All touching is consensual, and participants are always invited to sit out and watch, should they feel uncomfortable or triggered.
Event Date(s):
Saturday, December 14, 2019 - 10:00