The Funeral to End All Funerals
Written by Steven Elliot Jackson
Directed by Todd Davis
Kitchener Waterloo Little Theatre presents the world premiere of "The Funeral To End All Funerals" by Steven Elliott Jackson. Join us for a different type of family event this season which is not to be forgotten. Death only comes once, but family feuds last forever!
Before the Kardashians, there were . . . The Mitfords! What happens when you bring Nazis, a Communist, failed suicide attempts and death together? Comedy!
The mother of all dysfunctional families comes together for the death of a loved one in "The Funeral To End All Funerals". Seven siblings – Nancy, Pamela, Tom, Diana, Unity, Jessica and Deborah are notorious for many things but getting along isn't one of them. Today, however, is the day of the funeral for a beloved, so of course the many squabbles will not happen. Not likely!
"The Funeral to End All Funerals" runs from November 17 through December 3 on Friday and Saturday nights at 8pm and a Sunday matinee. Tickets are $20 in advance (plus service fees), $25 at the door, with discounts available for KWLT members, groups of six or more patrons, and youths (under 18).
The playwright, Steven Elliot Jackson, will do talkbacks on November 18 and November 26.
KWLT has recently changed its masking policy: masks will be required during the second weekend of performances (November 24–26) but not the first and third weekends.
Please note that online ticket sales are available up until 4 hours before the performance. Even then, there may still be walk-in tickets available, so please arrive before showtime!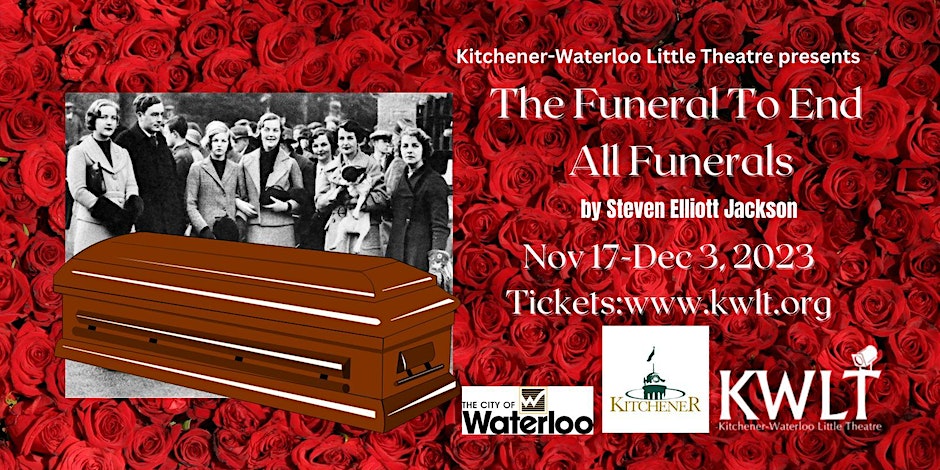 November 17 — December 3
9 Princess Street East
Todd Davies