KWLT's ultimate theatrical competition is back in the Black Box this year!
The rules are simple: two production teams have been given a short script and a week to turn it into a play. They got the script on a Friday night, auditioned actors the next day, and this Saturday they get to show the world what they've made of it.
Because we're still in pandemic times with a lot of uncertainty leading up to this event, we're not running this as a live show in the theatre. Instead, the teams will be performing on our stage on Saturday afternoon in front of our cameras, and we'll be broadcasting the video recordings in the evening on our YouTube channel. That detail excepted, we're running as normal a March Madness as we can!
About the author
R. Conway is a long-time fan of March Madness, and is, predictably, excited to be involved this year. Her most recent KWLT production was the 2018 production of She Kills Monsters, where she played an evil teen. She wishes to make clear that she is not, in fact, a teen.
She's looking forward to being shocked and awed when she finds out what these incredible production teams know that the story is about. Such a nice little treat.
You can read the script here!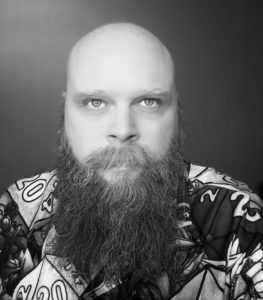 About the adjudicator
We're happy to welcome back Jonathan C. Dietrich as this year's adjudicator!
Jonathan, a UW Drama grad, has been part of the KW community theatre scene for almost 25 years. He has been on stage, done graphic design, and directed for KWLT and is excited to be back to adjudicate another March Madness.
You can watch the event right here, or go to our YouTube stream to take part in the chat!