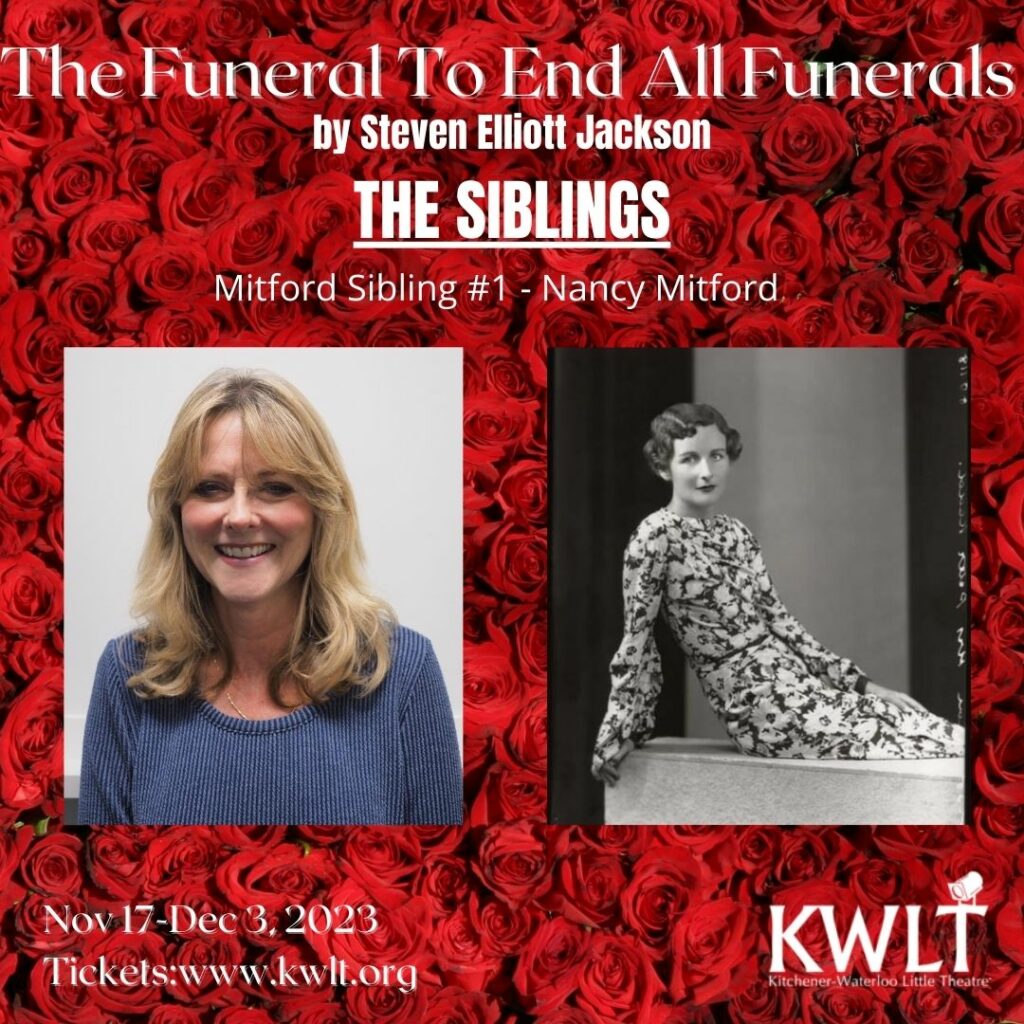 Jackie Wray as Nancy Mitford
Jackie is thrilled to be a part of Steven Elliott Jackson's debut production of the play The Funeral to End All Funerals at the KWLT. This also marks her first stage appearance with KWLT as well. Jackie is a past graduate of York University's Theater Performance program.  She recently performed the role of Aunt March in Ayr Community Theatre's April production of Little Women.
Katherine Schill as Pamela Mitford
Katherine is thrilled to be taking part in The Funeral To End All Funerals as Pamela Mitford. Most recently you might have seen them onstage in This is a Play with Ward One Acts at GLT, and in Someone's Daughter with Innovative Productions. But over the years you were more likely to have seen Katherine on and off stage at KWLT in various productions like Lucky Stiff, Cinderella, July One Acts (various years) and stage-managing Blood Relations and December Man.
Andre Furlong as Tom Mitford
Andre is thrilled to return to KWLT after a long absence. During his time away, he was crowned the "Vaguest Man Alive" in 2023.
Zivy Hardy as Diana Mitford
Zivy is delighted to be a part of Funeral to End All Funerals and to be working with a gifted and playful creative team, brilliant crew, and talented cast!  They love being back at KWLT after appearing as Jason in Ordinary Days.  Other previous credits include KWMP's 2022 Addams Family (ensemble/caveman), KWMP's 2023 Broadway Our Way, and GRO's 2023 Suor Angelica (ensemble/Sorella Dispensiera).  They have studied at Resound Voice Studio under Jennifer Carter.
Lia Mendonca as Unity Mitford
Lia Mendonca is a young Brazilian actress, who earned a Vocal certification at Nova Semente Music School and was the lead vocalist in her high school band. She was also a member of the Power Club Dance Studio and her school dance team for 4 years, where she performed a wide variety of different styles of dance and eventually became an instructor. Lia moved to Canada to continue pursuing her career as a performer. She then graduated high school after appearing in 3 theatre productions and earning herself the Performing Arts Award for Dance, Drama, Music.
Ashley King as Jessica Mitford
Ashley King is thrilled to be returning to the KWLT stage. Her most recent roles have been Julia in Zastrozzi (Kitchener-Waterloo Little Theatre), and Mindy in Five Women Wearing The Same Dress (Cambridge Community Players). You can also catch her working as a background actor in film and television.
Inese Hill as Deborah Mitford
Inese has acted in many productions in the Halton and Hamilton area. Favourites include The Unexpected Guest with Village Theatre Waterdown, Waiting For the Parade with Theatre Burlington, Oliver! with Theatre Ancaster, and Dedication at the  2022 Hamilton Fringe Festival. After attaining her Bachelor of Music Education from U.W.O., Inese worked both as a classroom teacher, and an Arts teacher for elementary  classes with the Halton Catholic District School Board.