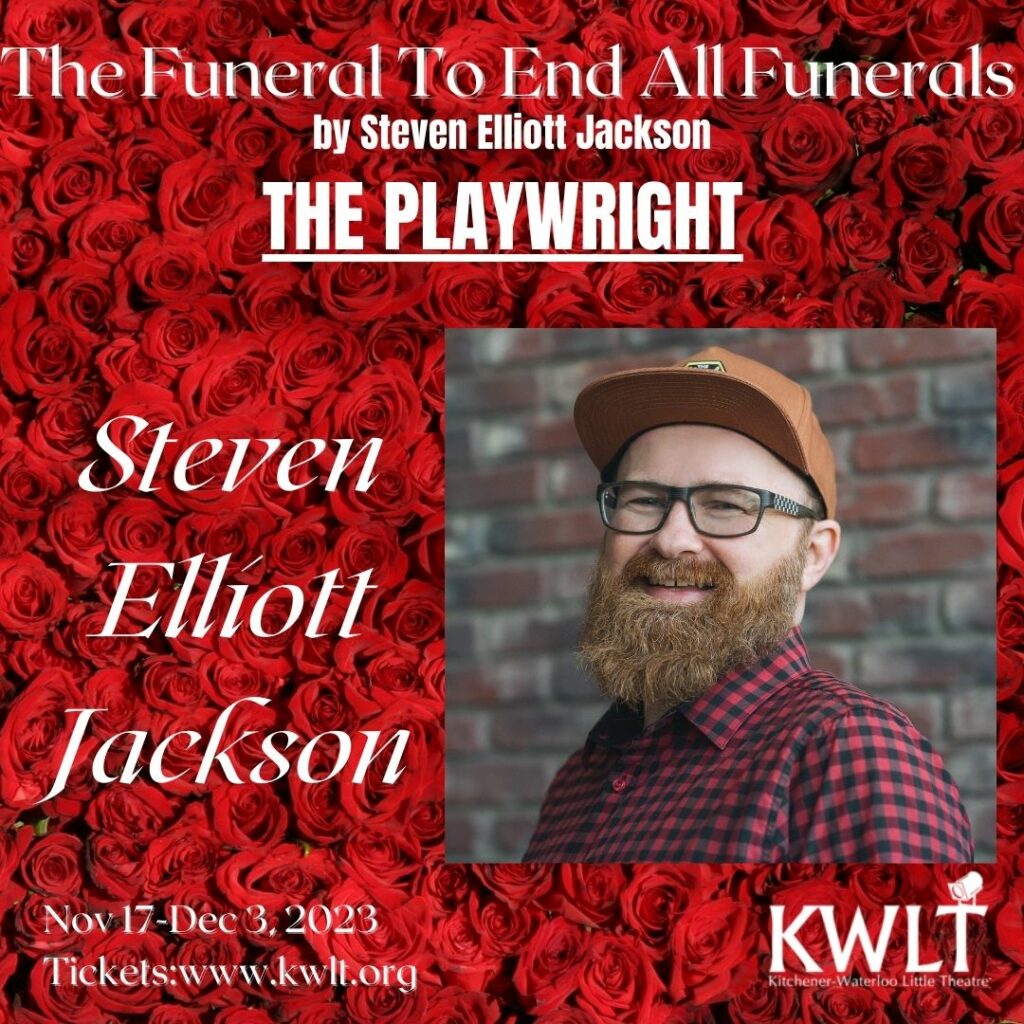 Steven Elliott Jackson the Playwright & Producer
Steven Elliott Jackson is a Dora-nominated award-winning playwright hailing now from Kitchener, ON.  His play The Seat Next To The King won Best New Play at The Toronto Fringe in 2017 and was published by Scirocco Drama in April 2018. In 2020, his play Three Ordinary Men won Best New Play for the Hamilton Fringe Festival, was a finalist in the ScreenCraft Stage Play contest and was a five time Dora nominee (including Best New Play) in 2022. In 2020, Jackson premiered the historical audio play Sarah/Frank and video drama The Cage at the Toronto Fringe Digital Collective to acclaim. In 2021, his script The Kindness Of Murder premiered at Next Stage Community Booster, and in July, a new filmed play The Laughter premiered at Hamilton Fringe. His drama The Garden Of Alla and the family musical The Prince's Big Adventurer, premiered at The Toronto Fringe Festival in 2022. In 2023 A Stage Of Her Own, a play about Nellie McClung and E. Pauline Johnson premiered in Brandon, Manitoba and his first immersive show The Will Of A Woman premiered at the Toronto Fringe Festival. Steven is currently developing Poppies For The Sikh for Green Light Arts in Kitchener and premiering The Funeral To End All Funerals for KWLT in the fall as well as The Cage, an audio play premiered Oct 8th at the Midtown Radio Drama Series.
Todd Davies the Director
Todd Davies is a newly Waterloo Region-based director, producer, and stage manager and he is making his KWLT debut as director of The Funeral To End All Funerals. He has worked for almost 20 years with various community theatre groups in the GTA including Stage Centre Productions and Scarborough Players in various roles behind the scenes. Personal favourites include: Next to Normal, Leading Ladies, Holmes For The Holidays, Trap For A Lonely Man, and his first show, Bus Stop. Moving away from Toronto to Kitchener upon his retirement as a teacher after 24 years, he is still involved in shows abroad including producer of the upcoming SMT show, Xanadu. When not in the rehearsal room, Todd keeps busy as a longstanding organiser of the PWA Friends For Life Bike Rally and various projects around his home.
Caspian Stonehouse the Stage Manager
Caspian has worked behind-the-scenes on other KWLT productions, including Suburban Motel (SM) and Paper Bag Princess (ASM). In his spare time, he's been known to scriptwrite for FASS!
Christina Kulikov the Assistant Stage Manager
As one of her school's Tech Directors and an Assistant Stage Manager for last year's school's production, She spends much of her time volunteering behind the scenes for many different types of shows and concerts, and is excited to work with everyone for this production!
Noah Snow the Lighting Designer
Meet Noah Snow, our lighting designer for The Funeral to End All Funerals. Graduated from high school recently, he brings his passion and fresh perspective to the production. With experience from Legally Blonde (Drayton Entertainment) and Murders in the Heir (WCI), Noah is excited to light up the stage in his KWLT debut!
Thomas Humphries the Sound Designer
Thomas has been involved with musical theatre since first stepping behind a soundboard in junior high. He has been active in the tech industry ever since, helping at many shows and events in various roles, such as technical director, stage manager, and sound designer. Before moving to Waterloo in 2019, he ran a sound and lighting company, providing event production services and installed systems in Western Manitoba and Southeast Saskatchewan. He was also an active volunteer on the board of directors for a turn-of-the-century opera house in Manitoba, The Aud, helping to manage a truly magical performance space. He is now focusing on his Ph.D. in data security and privacy at the University of Waterloo while keeping involved with musical theatre through volunteering. Credits: Tech Director/Sound Designer for Guys and Dolls, Broadway Our Way: Young at Heart, and The Addams Family (KWMP). Tech Director/Sound Designer for Crazy For You, Lighting Designer for Mamma Mia (Virden Theatre Productions); Sound Designer for The Hunchback of Notre Dame (MECCA). I am so excited to work with KWLT for the first time. Thank you for supporting live theatre!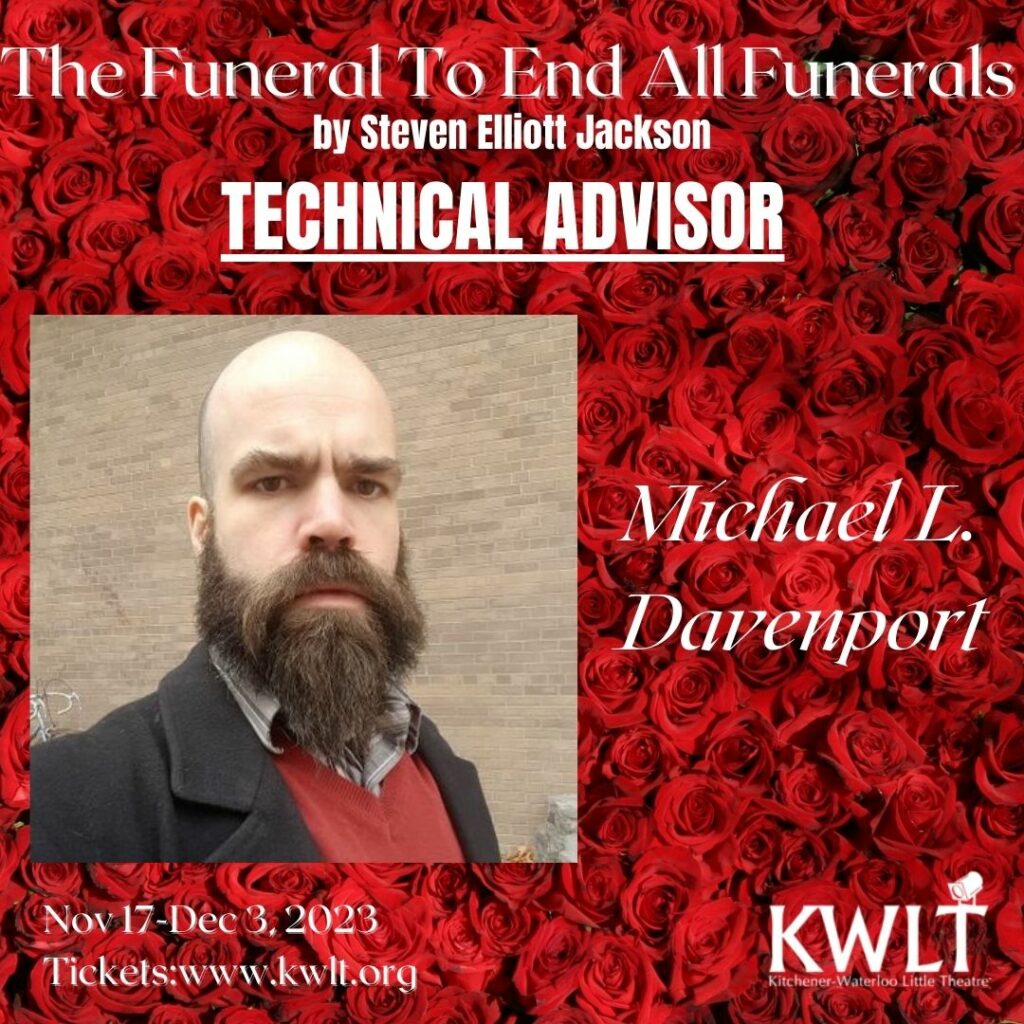 Michael L. Davenport the Technical Advisor
Davenport first learned of Steven Elliot Jackson through Green Light Arts' production of The Seat Next to the King. Davenport had nothing to do with that production, besides having seen it and really liking it. With that, Davenport was stoked to be involved in The Funeral to End All Funerals. Yeah yeah yeah, Davenport's acted / tech directed / emceed lots of things at KWLT. But let's take a moment to appreciate how great it is to put on locally written shows!